Plus White 5 Minute Speed Whitening System
---
Plus White 5 Minute Speed Whitening System
£19.99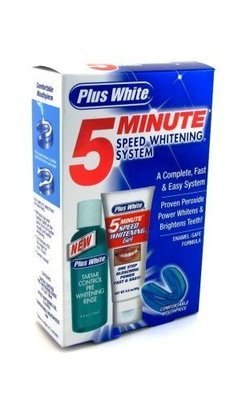 Description
Speed Whitening Gel - Begins Whitening on First Application - Ingredients Used by Dentists
Professional Dental Tray
StainGuard® Rinse - To Keep Them White
Show Off Your Whiter Smile!
5 Minute* Speed Whitening® Gel - Net Wt. 2.0 oz. (56 g)
Begins Whitening of First Application
Removes Old Built Up Stain Fast:
Tobacco
Coffee
Tea
Wine
StainGuard® Post Rinse - 4 FL OZ (118 ML)
Coats teeth with a protective shied of stain fighting polymers
Locks in whiter teeth by keeping new stains from forming
Comfortable Mouth Tray
Reusable mouth tray ensures complete coverage of each tooth with plus white whitening gel
One mouth tray
Comfortable Double Sided Mouth Tray for Full Coverage Whitening
Comfortable mouth tray
Provides full coverage whitening even in hard to reach areas
Reusable
*Starts to whiten in 5 minutes
Suggested Use
Just 3 Easy Steps to a Whiter, Brighter Smile
1. Prepare: Brush your teeth and rinse mouth with water.
2. Whiten & Rinse: Squeeze a small continuous line of Plus White Speed Whitening Gel into both sides of the mouth tray and carefully insert it into your mouth. Position the mouth tray over your teeth and bite down very gently. Very little pressure is needed to achieve maximum results. Leave in for 5 minutes for regular whitening. For badly stained or yellow teeth, allow 15-20 minutes. After desired time is reached, remove mouth tray and rinse mouth several times with cool water, thoroughly flushing any remaining gel from mouth and gum area. Do not swallow gel. Rinse mouth tray thoroughly in lukewarm and air dry. Wash hands with soap and water after whitening process.
Important: Do not use consecutively for more than 14 days.
3. StainGuard Post Rinse: Swish a capful (about a teaspoon) of Plus White StainGuard Rinse in mouth for 15-20 seconds and rinse out.
For Best Results: Use Plus White Whitening Gel twice daily for two weeks. The whitening process begins with the very first application. You can maintain this white shade you just have just achieved by using or twice a week or as needed.
Other Ingredients
5 Minute Speed Whitening Gel: Water (purified), poloxamer 407, hydrogen peroxide, flavor, disodium edta, sodium saccharin, sodium phosphate, phosphoric acid.
StainGuard Rinse: Water (purified), glycerin, pvp, poloxamer 338, flavor, sodium benzoate, polysorbate 20, sodium saccharin, citric acid, blue 1.
Warnings
Important: If the gel is of a liquid or watery consistency, it is possible that the product was affected by excessive heat and will not perform properly.
Attention: Store Plus White Speed Whitening Gel in a cool, dry place and keep away from direct sunlight and excessive heat.
Please read before use. Do not swallow either product. If more than used for rinsing or whitening is accidentally swallowed, get medical help or contact poison control center right away. If either product comes in contact with your eyes, rinse immediately. Caution: Keep away from children under 12 years old. If in doubt, check with your dentist. Do not use while sleeping. Do not use if you have gum disease, wear braces, have receding or sore gums, have cavities or if allergic to any of the ingredients. Check with your dentist. Stop use and consult with your dentist if you experience any serious burning sensations, sensitivity to gums, mouth, or tissue damage. Will not whiten caps, crowns or veneers.
Attention: Does not relieve or treat sensitive teeth, oral pain or gum disease.
Disclaimer
While iHerb strives to ensure the accuracy of its product images and information, some manufacturing changes to packaging and/or ingredients may be pending update on our site. Although items may occasionally ship with alternate packaging, freshness is always guaranteed. We recommend that you read labels, warnings and directions of all products before use and not rely solely on the information provided by iHerb.