Black Magic fat burner. 30s
---
Black Magic fat burner. 30s
£16.99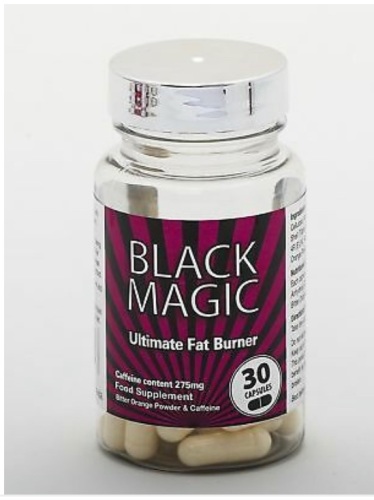 Black Magic
Ultimate Fat Burner
With Bitter Orange Powder & Caffeine
Food Supplement
Created for people who are wanting that
final push to reach their weight loss target.
Black Magic is designed to spike metabolism stimulation
through thermogenesis (burning calories through heat).
It contains Caffeine to kick slimming goals into overdrive
and give you the energy needed to succeed.
Directions: Take one capsule per day.
Ingredients: Microcrystalline Cellulose,
Anhydrous Caffeine,
Gelatin Shell, Titanium Dioxide (E171),
Ponceau 4R (E124),
Amanranth (E123), Bitter Orange Powder,
Magnesium Stearate.

Warning: Please review the Safety Information
below before purchasing this product and always
read the manufacturers label carefully before use.

Always read the label carefully for the complete
list of ingredients to check for allergen sensitivities.
Please email before purchasing if you require clarification.

Do not take this product if you are pregnant,
suffer from high blood pressure, have any cardiovascular disorder,
heart disease, hyperthyroidism, diabetes
or if taking anti-depressant medication.
Not suitable for anyone under the age of 18.
If unsure please consult your doctor before taking this product.

Not suitable for children, pregnant women
and persons sensitive to caffeine.

This product is not a food supplement